4 Ways to Work Out in the Summer Without a Gym
It's almost July and this sunny weather gives me a natural desire to be outside rather than in a damp, air-conditioned gym with fluorescent lighting.
You too?
Here's how to get your exercise, outside, without a gym all summer:
1. Leave your car at home
If you can, leave the car at home and let that 15 minute car commute turn into a 30 – 45 minute walk.  During the summer the sun is up earlier and for longer periods of time.  Utilize that circadian cycle to get up earlier and walk to and from work.  An extra 60 minutes of simply walking will add an extra SIX THOUSAND steps to your day.  That's close to double what you're doing at your desk job.  This will get your metabolism firing right off in the morning, leading to faster weight loss. Plus, you'll feel better from all the extra moving!
2. KISS
My favorite saying, Keep It Simple Stupid.  (You're not stupid, you're great!) This applies for working out. Realistically, you can squat, lunge, pull-up, or push up jusssst about anywhere.  Really though, you don't need to be in a gym to get these done 😉 . Whether it's taking the kids to the playground and monkeying around on the jungle gym or getting a bodyweight circuit in as dinner is cooking, there is always time to move.  Basic movements yield equal, if not greater, results to complex movements – so stick to what you know!
3. 
Buuuuut, get creative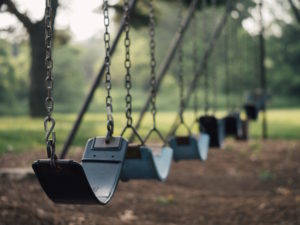 I know I said keep it simple with the exercises you're doing, BUT be creative on your environment.  Workouts can be anything, and done anywhere.  The thought of doing a workout outside the confines of a gym may sound silly but it's reality!  Work out in nature whenever you can.  Depending on where you are— go for a hike, run the beach, swim the lake — whatever your environment provides you, take advantage.  Even if you don't have the privilege of a workable exercise environment, simply get outside in the grass for a bodyweight circuit.  Anything can be used as a weight; a bottle of laundry detergent, old school books, something from your yard, or a toddler can be substitutes for the classic dumbbell.
4. Join a Team
There's so many activities in the summer.  It could be joining a summer softball team, after work walking club, or picking up golf — anything that requires you to get outside and move will help you work towards your health and wellness goals.  Getting yourself out there and joining a team will obviously help you tack on some exercise each week, but will also help your mental health with positive social interaction.  Find something that you and your friends can commit to doing it 1 or 2 times per week!  If there is nothing out there, YOU be the one to take initiative.  
All in all, there really is no excuse to not get out and move, ESPECIALLY during the summer.  If you can get outside and enjoy an activity that also moves you more towards your health and wellness goals, DO IT.  This is much easier accomplished when doing it with other people; so get an after work walk group going, play yard games with the kids, or take advantage of the outdoor beginner class now being offered.  Plus, being outside equals a tan, and isn't that the whole point of summer? 😛
Editor's Note: be kind to your skin in the sun 🙂