9 Boston Fitness Instructors' Favorite Smoothies at the Juicery
Not only are smoothies great for on-the-go refueling, but they're especially helpful for fitness instructors — they're hydrating, filling, nutrient-dense, and provide quick energy. The Juicery has long been a fitness instructor fav, especially with all of the fitness studios in the North End.
Cycologist at Cyc Fitness, Instructor at BURN Fitness Studios, founder of Fit University
👉🏾  

Favorite:
Acai Bowl (acai & frozen banana blend, fresh banana, peanut butter, granola, coconut, cacao, almond milk)
"My first time at The Juicery after my first MyStryde class — both equally as amazing (took off half the PB after taking this pic; I like to keep my serving size at  around 1 tbsp…don't be afraid to modify your meal to fit your nutritional needs)! Now off to do some work, then teaching at Cyc Fitness at 12pm."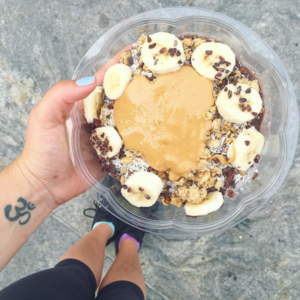 ───────────────────────────────────
Trainer at TITLE Boxing Club Newbury Street
👉🏾  Favorite:
Peanut Butter Bliss (chocolate almond milk, peanut butter, and bananas) with espresso grinds and chia seeds
"If I just worked out I'll add the hemp protein as well… tastes better than the whey in my honest opinion. I've been crushing this smoothie for two years; you'll be peanut and jealous if you don't soon!"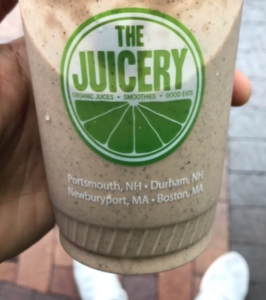 ───────────────────────────────────
Trainer at Everybody Fights and Instructor at BTone Fitness
👉🏾  

Favorites:

Prana (banana, strawberry, almond butter, dates) and Green Light (pineapple, mango, spinach, kale, dates, orange juice, ginger/carrot juice)
"I like having a green smoothie after a morning workout because it's tasty and nutritious — perfect for recovery."
───────────────────────────────────
Personal Trainer at Equinox and Founder of Where Love Lives
👉🏾  

Favorite:

Peanut Butter Bliss
"I love the Peanut Butter Bliss because the banana is high in potassium which is important for muscle recovery and the chocolate aids in replenishing low glycogen stores post-workout. If I do high intensity interval training, I'll opt for a shot of cayenne (lemon, agave, cayenne) on the side because that's high in Vitamin C — after an intense workout, the immune system is weakened. The lemon gives it an extra boost."
───────────────────────────────────
Spin and Kettlebell Instructor at Marino Center at Northeastern and YWCA
👉🏾  

Favorite:

Acai Bowl with whey protein
"I'd say I'm mostly an acai girl! I'm dying to try the Whoa Nelly smoothie (banana, strawberry, raspberry, yogurt, coconut, apple juice, almond milk), but I've gotten acai every time. Love adding a scoop of whey protein to get an extra boost!"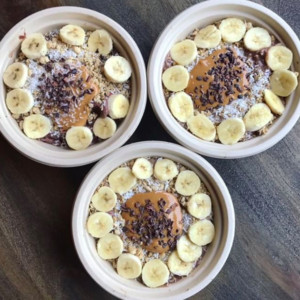 ───────────────────────────────────
Instructor at BTone Fitness
👉🏾  

Favorites:

Kale Storm (banana, mango, spinach, kale, lemon juice, apple juice) and an Acai Bowl
"I pick these two right away when I'm craving a something thicker and satisfying post-teaching at BTone in the North End. If I feel like I need to balance my body and feel clean after eating a big meal and craving some veggies, I will get Liquid Sunshine."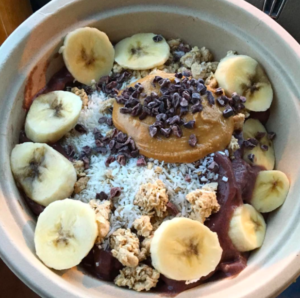 ───────────────────────────────────
Group Fitness Instructor at the Marino Center at Northeastern
👉🏾  

Favorite:

Pine Ango Beet Tango (strawberry, mango, pineapple, beet juice, orange juice)
"I love fruity smoothies like the Pine Ango Beet Tango because they are so refreshing! They're easy on the stomach and good for on-the-go both before and after a workout. I like to add chia seeds or something similar for a protein boost!"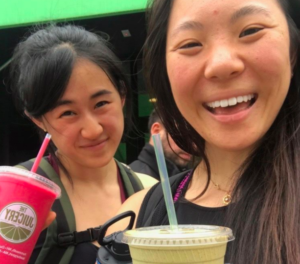 ───────────────────────────────────
Pilates and Barre Instructor at North End Yoga, Trainer at Everybody Fights
👉🏾  

Favorite:

Peanut Butter Bliss with cinnamon and spinach
"I go all the time because North End Yoga is right there! I get this on Fridays because I teach two classes and then have to rush to teach three more so it holds me over for hours!"
───────────────────────────────────
Trainer at TITLE Boxing Club North Station and Newbury Street
👉🏾  

Favorite:

Faster than Light (banana, almond butter, spinach, dates, sunflower seeds, almond milk, ginger/carrot) with

no dates and no ginger/carrot juice; add espresso, hemp protein powder, maca, and kale (and sometimes a wheatgrass shot)
"I take out the dates in smoothies because I aim for something a little bit lower in sugar; the almond butter and sunflower seeds provide healthy fats. I love adding in superfoods like maca for energy, espresso for an extra boost, or wheatgrass for an extra detoxifying component."
It looks like everyone's a huge fan of the Peanut Butter Bliss and Acai Bowl — I've tried the bowl with Paleo modifications and I can agree that it's an amazing bowl. It's great for when you want something a little more meal-like.
To see the rest of the Boston menu, check it out here.