Adding Fat to Your Coffee Is a Good Thing: Bulletproof Coffee Recipe
Fats are glamorous now. Gone are the days of low fat diets; the trend of eating healthy fats to stay satisfied is here to stay. As someone who's been a huge advocate of healthy fats (hello, cue in my obsession with avocados and nuts), I'm glad the rest of the world is finally catching on.
But have you tried adding fat to your coffee? If you haven't heard of "bulletproof coffee," that is essentially what it is — a mix of fat and, you guessed it, coffee.
Originally started by Dave Aspry, the idea is that it can replace your carb-heavy, grain-filled breakfast. The saturated fat keeps you full, while the coffee keeps you alert.
Essentially, it makes you feel "bulletproof."
I'm not going to promise you it'll make you feel invincible. I'm not going to tell you to even replace your breakfast with this. Sometimes I do, but sometimes I drink it for an extra energy boost or with a snack (one of my favorite pre-teaching back-to-back boxing class go-to's). It depends on your energy needs and how active you are.
I've taken Aspry's original formula and modified it, and added some superfoods and spices, giving it an extra boost. Here is my go-to recipe, as well as a vegan version — enjoy!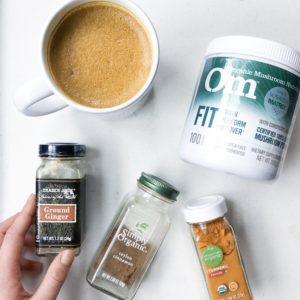 ApproachingPaleo's "Golden Milk" Bulletproof Coffee
Ingredients:
*Note: I use ghee (basically clarified butter — it's heated and then cooled) instead of grass-fed butter as it's easier on my stomach (it has less lactose than butter), but you can definitely just use grass-fed butter instead — KerryGold is a popular brand that many use.
"Golden Milk" Vegan Bulletproof Coffee
Ingredients:
8 oz hot coffee

1 scoop unflavored vegan protein powder (I like Manitoba Harvest hemp protein or Garden of Life grain-free smooth unflavored protein)

1 tsp

Om Fit mushroom powder

(or any mushroom powder of choice)

1 tsp

maca powder

(I use

Navitas Organics

)

1 tsp vanilla extract

1 tsp cinnamon

1 tsp

turmeric

1 tbsp coconut oil

1 tbsp MCT oil or Brain Octane (I use

SuperBody Breakthough

)

A pinch of ground black pepper (this helps the turmeric absorb better in your body)

Optional:

cayenne, ground ginger, and wild honey, to taste
Directions
Combine coffee and all ingredients in a blender. Blend on high until frothy (about 20 seconds). Pour into a cup and enjoy!
Note: You can shake it up in a Blender Bottle or mason jar, but it won't get as frothy and won't taste as good — I recommend blending it if you have a blender handy!
For more details on the specific superfoods I use (and the top superfoods you should look out for), stay tuned for another Juicery blog post coming soon!