Chocolate Coconut Cashew Raw Vegan Truffles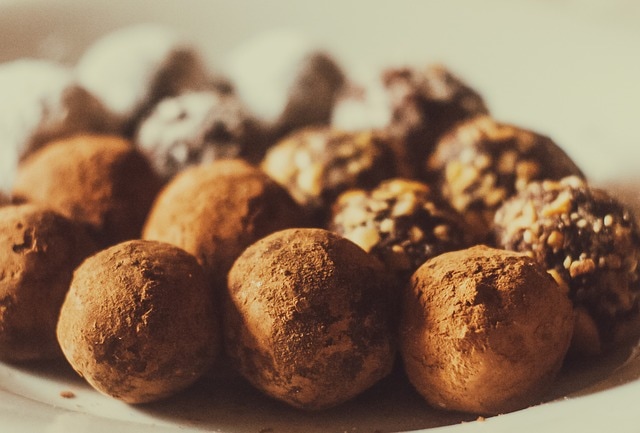 Ok I admit it, I have a serious sweet tooth. 
So when I have a craving for something sweet I sometimes indulge and other times try to find treats that will appease my craving, but nourish rather than diminish my body. 
Some obvious nourishing craving-appeasers are fresh fruits, dried fruits, or low sugar sorbets.  Others that take a little bit more effort include raw vegan desserts like truffles, brownies & cakes. 
These are usually made with a combination of nuts, dried fruits, cocoa/carob powder, coconut, spices, and maybe a little sweetener added in.  The combinations are endless!
Try out this batch, but experiment with different nuts, spices and dried fruits to see what flavor combos you come up with.  Really, you can't go wrong with this because any combo you make most likely will taste awesome.  And these sweets are much healthier for your body than the traditional standby of Oreos, cupcakes, ice cream, cookies, etc.
Your taste buds and body thank you.
Chocolate Coconut Cashew Raw Vegan Truffles
3/4 cup raw unsalted cashews
1/2 cup unsweetened shredded coconut
2 T cocoa or carob powder
1/4 tsp pure vanilla extract
2 cups pitted dates
In a food processor fitted with a S-blade, blend all but vanilla and dates until it is a powder.  Add in the vanilla with a cup of the dates and process.  Add the other cup of dates and process until the mix forms a dough.  Add more dates or a tiny bit of water if it is too dry.
Roll into little balls and optionally roll in cocoa powder, chopped nuts, or shredded coconut.  This is also delish pressed into a loaf pan to make a "brownie".  Optionally top with fresh strawberry or raspberry jam for an added taste boost.
Refrigerate until firm, eat and enjoy.  These could last a couple weeks if you don't eat them first.