INTRODUCING #JUICENATION AMBASSADOR LIZZ!
My name is Lizz Backler, I am 30 years old and I am from Newburyport, MA. I currently work part-time, teaching indoor cycling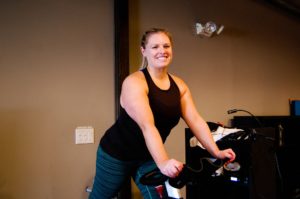 classes per week at The Inner Cycle Studios in Amesbury, North Reading, and Beverly. I also hold a part-time job selling designer office furniture out of Newburyport. I graduated from the University of New England in Biddeford, Maine with a BS in Psychobiology Behavioral Neuroscience.
I spend the majority of my free time getting outside in the nice weather, sitting in front of my computer searching for the freshest beats, making home cooked meals, reading books, and watching guilty pleasure reality shows on Bravo. I swam competitively for 10 years, and have continued to race in open water swims as an adult.
While I love everything about my life, teaching indoor cycling is my true passion, and the fact that I get to do it every single day makes me feel overwhelmingly grateful.
What's your mantra?:
I have thought a lot about this one over the past few years as an instructor, and after a long struggle with this, it just hit me, this shouldn't be hard! What are the things that make me happy to wake up every morning and get me out of bed? Then it hit me…
Love. Sweat. Cycle.
It's so simple, but I love that it's to the point and truly encompasses what makes me get on that bike every damn day.
What's your definition of 'health'?:
Health can mean so many different things to people. It's hard to define a word that has so many different descriptions depending on who you ask. I have really found that health is not just about the body, it really is about how connected your mind, body, and soul are to each other, and the Earth around you. If I had to define it in my own terms, when I feel the most healthy is when I feel good and confident in my own skin, when I'm nourishing my body with food that is good for me, when my mind is at peace, and when I am teaching class, dripping in sweat, and getting lost in the ride.
What led you to be interested in health & fitness?:
I was a competitive swimmer from ages 8-18, and in college I struggled to find a workout that kept my interest like swimming. One weekend, while I was home on break, I went to my very first spin class. I was introduced to an instructor named Cathy Sheehan. Cathy changed my life. She changed my outlook on exercise, she gave me confidence in my workout, and she knew how to motivate and push everyone in her class. After a few years of taking her classes we became close friends, and she encouraged me to get certified as an instructor. I started out teaching at a large, franchised gym, where Cathy taught, but I have since found my home at The Inner Cycle. Unfortunately, Cathy passed away of Leukemia in 2014, and ever since then I have promised myself to stay true to my goals and never stop pushing myself as a rider and an instructor.
How do you live your mantra and health philosophy in your own life?:
The "Love" part of my mantra is probably the most difficult one for me to explain. I went through a really difficult time about 2 years ago, and it took a great deal of work for me to recover from the trauma that I experienced. However, it was through those struggles that really helped me to grow into the person I am today, a person that I am SO proud to be. I wake up every morning thankful for the love and support that surround me in my life. I am beyond lucky to have amazing parents, a brother who I can always lean on, a few really close friends, and the best boyfriend a girl could ask for. With their love and support I find my heart more open than ever to give and receive love and support to everyone around me.
The "Sweat" & "Cycle" parts are the easiest! I teach 7 days a week, and double up on 2 of the days. My bosses at The Inner Cycle, are truly two of the most amazing women I have ever met in my life. They took a REALLY big chance on me two years ago, and I will be forever grateful to them for that, not many business owners would have stuck their neck's out for me like these girls did. Over the last two years they have let me shine on the podium, and they have trusted me and let my creativity blossom. Letting me teach classes like Hot Cycle, Tabata & Tone, 50/50/50 Cycle, and Theme Rides; they are wonderful to work for, and I can't imagine where my life would be today without them.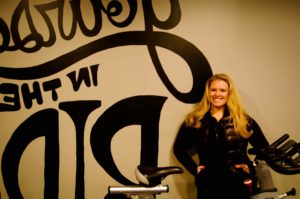 As far as my health goes, my motto is life is all about balance. I don't deprive myself of anything. If I decide I want to have some bread with butter on it for a snack, I have it, but then I'll skip the carbs with my dinner and go for a high protein and some fresh veggies. Anyone who knows me knows I LOVE dessert; I have recently gotten into a love affair with Halo Top Ice Cream (If you are reading this and you have never heard of it, drop what you are doing, go to the closest grocery store, and buy yourself a pint. You're welcome.). I try very hard to balance my love for pasta (I'm half Italian) and sweets (I don't have an excuse for this) by eating fresh fruit and veggies every day. Goat cheese is my favorite topping to put on almost anything, and I always have a container of it and a dozen eggs in my fridge, because you never know when you're going to want scrambled eggs with cheese!
During my work week I try to set aside 2 or 3 days where I work remotely, typically I will set up shop at The Juicery and invent some new concoction to sip on. But like I said earlier, being healthy isn't just about the food you eat and the exercise you do, I do many other things that help keep my mind and soul healthy. I see a therapist once a week; some people might thing this is a TMI, but I disagree! More people should talk to someone on a regular basis and be less worried about what everyone else thinks about it. I set aside two hours a week for myself, to do something that makes me feel good and happy; one of those hours is always reserved for a trip to my favorite city cycling studio in Boston, B/Spoke. Again, a lot of instructors would say I'm crazy for going to another studio to take a class, and again, I would respectfully disagree. Part of what makes me the instructor that I am is taking classes from my peers. It gets me motivated and I always leave with a fresh new idea to bring to my own classes. The other hour is typically spent doing some sort of craft. I love my adult coloring books, and I am not ashamed of it; the coloring calms me, and I love spending time focusing on details that don't involve the stresses of my every day life.
Truthfully, the absolute MOST IMPORTANT thing I do to stay healthy is take care of my body. There are 5 things that I honestly could not live without if I had to: my foam roller (15-20 minutes every single night!), my physical therapist (Dr. Chad Burnham of ProForm Physical Therapy in Salisbury, MA), my chiropractor (Dr. Jeffrey Newman of Newman Chiropractic in Salisbury, MA), piping hot baths (they help to relax my muscles and my mind), and naps (I try and take one every day). Teaching non-stop, 7 days a week is demanding on my body, and these are my must-have's that help make it all possible.
What Juicery location do you frequent?:
Newburyport, but I have also visited Portsmouth!
What's your favorite thing on the menu? (Or off the menu, if you concoct your own smoothies & juices!):
Honestly, I get something different every time! I do love the Acai Bowls, but if I am getting a smoothie it will typically involve berries!
What's next for you?:
I can honestly say that I have NO idea! I love doing rides for different charities (for my 30th birthday I did a big ride with a live DJ for the New England Innocence Project, and recently I did another one for Ovarian Cancer Research), so I am really hoping to do a lot more of those in the future. I am always looking for the next best thing to bring to the podium, and while I don't know what that is YET, I can guarantee that when I find it you will be able to get it in my classes!
How can we follow your adventures?
You can follow me on Instagram (my favorite place to post) at @lizzcycle, you can like my page on Facebook, or you can catch my monthly blog, most up to date schedule, book a class, check out my playlists and learn more about me at www.lizzbacklerfitness.com.