Introducing #JuiceNation Ambassador Madeline!
I grew up, reside, and work in Boston; I can't imagine living anywhere else, I love it here! During the day, I work in the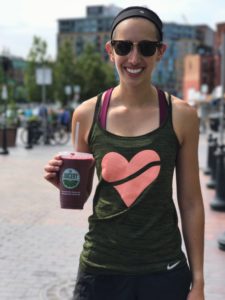 financial services industry, and outside of the usual 9-5, you can find me outdoors, playing with my dog, or trying new things with friends. I love running, cross training, challenging myself with new activities, writing on my fitness blog, traveling, photography, eating at local restaurants, and spending time with family. 
What's your mantra?: 
 'Push your limits, continue breaking down boundaries'
What's your definition of 'health'?: 
Health to me is broken down into two different categories: physical and mental. 
To me, physical health is being active and coherent to the needs of your body. I run, lift, hike, swim, spin, and attending yoga classes to keep myself in shape. But before I go and run a few miles, I need to be sure my body is fueled with the essentials; good food, lots of water, and getting plenty of sleep.  
While you may be physically in shape, if your head isn't in the right place it makes all the goals or obstacles you are trying to accomplish that much harder. For me, mental health is making sure my head is in the right state of mind and thinking positively. Without this, I wouldn't be able to accomplish many of the goals I have set for myself. Overall, it is imperative to me to make sure that I have a positive mindset. This has really changed the way I view my life, and I think overall I am a much happier and healthier person because of it. 
What led you to be interested in health & fitness?: 
Growing up, my family lived a very active lifestyle; my dad is an active biker and runner, my brothers and I played multiple sports in high school, and when we planned time to be together it always included outdoor activities. It wasn't until after college that health and fitness meant more to me than just a daily workout. When I found myself living and working in the city (Boston) I joined the Nike Run Club and that's where it really took off for me. I loved how supportive my group was, as well as the running community.  I started to do things I once thought were impossible and loved how much they pushed me to challenge myself. One thing led to another and now I find myself being active and health conscious all the time.   
How do you live your mantra and health philosophy in your own life? 
I have always been a goal oriented person; I love to check things off my lists and accomplish the things I have set out to do for the day. Once I started living on my own, I found I needed to stop adding easy things on my lists and instead start challenging myself.  (This is when I found my mantra and started Nike run club) So every time I go for a run, I set a small challenge for that work out and a long term goal that it will help me achieve. What's amazing about this, is its working! I have run 4 half-marathons and the Fenway Spartan race. 
We are capable of doing anything we set our mind to. Nothing is impossible, you are strong and can do it! 
What Juicery location do you frequent?: 
North End, Boston location
What's your favorite thing on the menu? (Or off the menu, if you concoct your own smoothies & juices!):  
My favorite thing on the menu is the Faster Than Lightsmoothie. It is the best way for me to reenergize after a workout! I also love the Very Berry when I am in the mood for more of that fruity taste. No matter what smoothie I am getting I always add the Hemp protein, it's great fuel for the day. 
What's next for you?:
The first is making sure I heal, rehab and take care of my body. The past 7 weeks have been tough with an injury (plantar fasciitis) but with physical therapy and practice of mental health I am hopeful to be out there running long distance soon.
To keep my endurance up, I will be a participant in the Boston Super Spartan Race, this is much more obstacle focused than it is running. It's my first race since my injury and it will definitely be challenging, but I plan to take it slow and just enjoy it. 
In the long term I see myself running a full marathon, traveling to more places, and sharing my fitness journey on my blog. I really want to inspire others to believe they can do anything they set their minds to. 
I am also traveling to Colombia at the end of August! I'm so excited to explore a new country/continent!
How can we follow your adventures? 
I would love to connect on my social media! 
Instagram: madrunella 
Twitter: MaRUNella_
Facebook: Madeline Marinella
Interested in becoming a #JuiceNation Ambassador?