Your New 15 Minute Morning Routine
There are many more productive ways to start your morning than scrolling through Instagram or being berated by sensational news. The first few moments you open your eyes offer the most potential for setting the pace of your day. You're a blank slate, you haven't had the opportunity to build any anxious or negative momentum, take advantage! 
As a holistic nutritionist, one of the foundation steps I advocate for with all clients is a solidified, simple morning ritual.
The equation is easy. The first things you ingest each morning are as follows:
Mindfulness and gratitude
Conscious breath
Water
Mindfulness and gratitude
As a blank slate, it's the perfect time to practice mindfulness and gratitude. The most important piece to creating a ritual that is effective and actually sticks is to make sure it *feels* good– so lean on the activities you already enjoy doing. You can visualize, write, pray, meditate on or speak about what you're grateful for; whatever feels the most fulfilling for you.
I personally like to add movement to my mindfulness practice. Feel free to join me in a short Morning Movement & Meditation video.
We filmed this while in Panama on our last retreat, enjoy the soothing sounds of the ocean.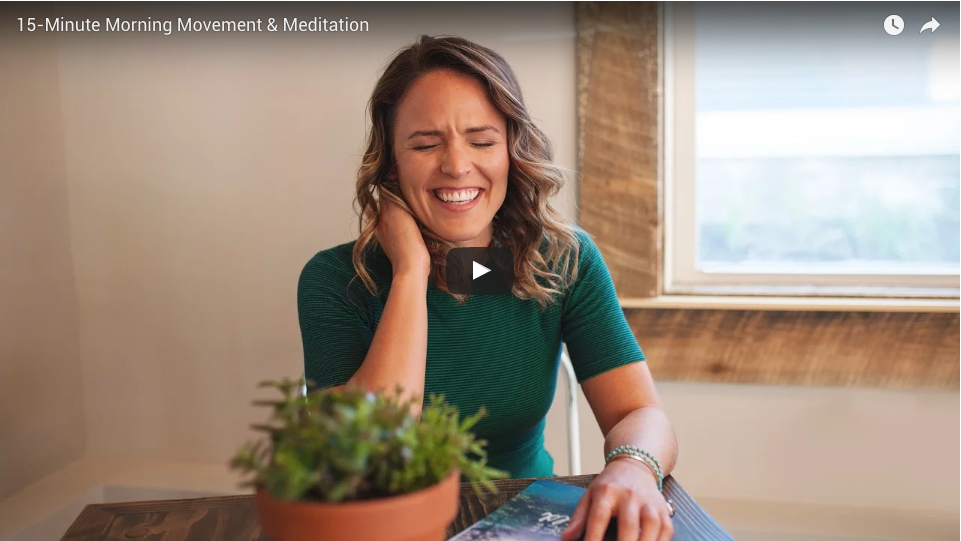 Conscious Breath
You have 37+ trillion cells and every one of them need oxygen to thrive. Most of us use only the top 1/4 of our lungs throughout the day so our bodies are not receiving the optimal amount of oxygen. You need breath more than you need water or food, so starting the day with just 10 grounding, deep breaths will invigorate your system for a vibrant start.
If you're looking for more advance breath exercises (also called 'pranayama"), check out some of these.
Water
Assuming you haven't been drinking water throughout the night, you awake not having hydrated yourself for 7 – 10 hours! You're dehydrated. Many of us consume coffee as our first liquid, even further dehydrating our digestive system. If you prefer supple, lubricated intestines (hint: you do for optimal digestion), you need to consume water first thing.
Drinking 8oz – 16oz of room temperature or warm water (think tea temperature) is the gentlest route for your waking stomach. Add 1/4 – 1/2 of a lemon for a dose of vitamin C and to ignite your digestive fires.
Homemade ginger tea makes for an invigorating morning brew too!
Hey you, you're worth it! If anyone is going to advocate for your wellness… it's gonna have to be you. Fifteen minutes a day is well worth the full day you'll continue to experience the mind, body and spirit benefits 😊 .