About the Juicery
in our home…
We take pride in providing affordable, convenient, nutrient-dense eats & drinks
We honor the wants & needs of vegans*, vegetarians, acai bowl-atarians near and far
We're redefining 'fast food.' Ours actually contains

food

😉
We are passionate about your health & happiness

We are dedicated to the health & happiness of our employees

We know good vibes are just as nourishing as good eats
We cherish our community (you)
We give daily thanks to Mother Earth by using all compostable cups, bowls, straws, napkins & silverware (then recycle everything else)
We promise to continually evolve and innovate
* We are 99% vegan. In efforts to best satisfy our community, we may use organic cage free eggs, dairy and/or honey.
The first Juicery started in a closet.
OK, it wasn't a real closet- but it sure felt like it.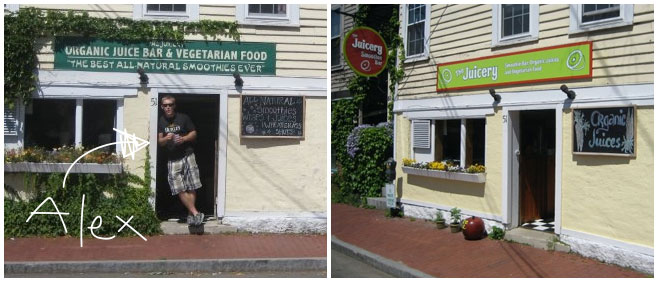 That's Alex, he started the first Juicery in 2008 after returning to the seacoast from Florida's Stetson University. In Florida, juice and smoothies were poppin'. In New Hampshire, not so much… yet.
Alex purchased his smoothie-closet off of Craigslist and the rest is history.
We've since expanded to 9 locations (including our soup cafes, The Soupery, and our Maine brand of juice cafes, Maine Squeeze Juice Cafe), and have made some major upgrades. Thankfully, Alex's wardrobe has also made some major upgrades. #thoseplaidshorts #SOS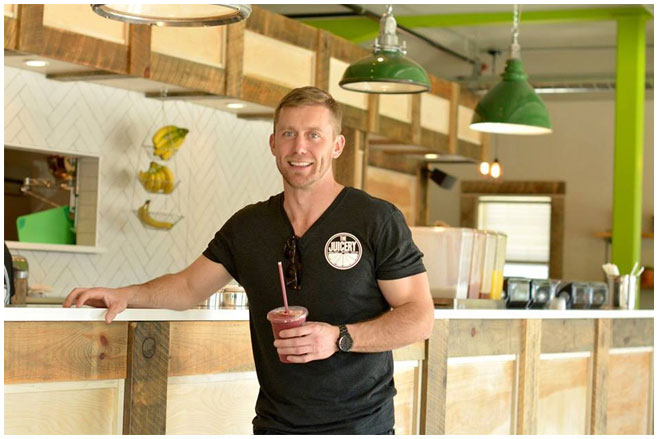 The first Juicery started as a means to provide healthy, affordable, 'fast food' to the community. While each of our locations may look a bit different and serve a slightly different menu, our goal is always the same– to nourish the people we love.
Our growth and continued success has been made possible by our loving and supportive community. Thank you for joining us on this journey, we hope you stick around for years to come!
Fun Facts:
1. All of our To Go foods are made by the Juicery Kitchen, led by our brilliant Chef Stacey. The Juicery Kitchen was born in 2014 and continues to grow with Stacey's passion to deliver nutritious, delicious, quality foods to the community we love.
2. We've sold over 1 million smoothies since we opened our first location in 2008.
3. Our Durham location was designed by Ivory and Bone Interiors and NH Chronicle featured us in an episode!
4. Alex and his brother (who also has 2 juice cafes now!) were the first two employees. Eight years later, we have 110 employees throughout New Hampshire, Maine and Massachusetts.
5. The original Juicery is now our downtown Portsmouth Soupery.
6. Alex used to wear a banana suit for events when The Juicery first opened. Our friends at our sister location, Maine Squeeze Juice Cafe, still like to wear the banana suit from time to time.
7. Adrien Grenier visited the first Juicery. Alex gave him a free smoothie in exchange for a picture #fanboy